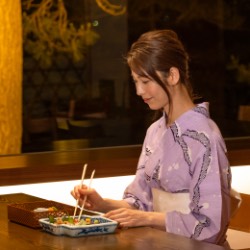 We'll come again. That food was delicious. Thank you!
Smiling faces and words of praise are the source of our hospitality.
Truly delicious ingredients, freshly-caught seafood and exquisite seasonal foods.
The root of Hotel Kinparo's sense of taste lies in its discerning selection of only
the freshest, most delicious, nutritious ingredients.
Seafood from Tsuiyama, a fishing town renowned for quality.
Fresh seasonal produce from the bountiful San'in region.
We hope you enjoy the symphony of flavors played courtesy of select ingredients.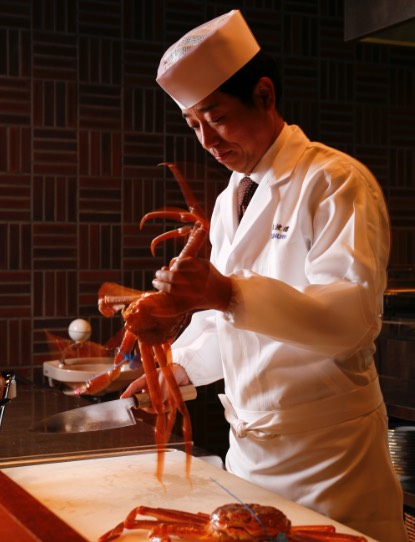 Hiyoriyama Onsen, the location of Hotel Kinparo, is situated in Toyooka City in Hyogo Prefecture. Our location allows us to acquire a range of fresh ingredients, from plentiful crabs in the winter season to popular, high-quality Tajima beef and seasonal vegetables. Our hope is to create memorable dishes which utilize and bring out the flavors of these exceptional ingredients. It is with this wish that we prepare meals every day.
Hotel Kinparo General master chef: Susumu Kimura.
Specialty
Seasonal dishes, served with pride.
Select Ingredients Courtesy of Tsuiyama Fishermen
Fresh seafood sourced from the fishing town of Tsuiyama.
Bounties of the earth harvested from the rich natural surroundings of the San'in region.
Here, we will introduce you to some of the select ingredients we use to prepare our outstanding meals.
Tsuiyama crabs (Matsuba crabs)

Tsuiyama crabs, much admired by connoisseurs, differ in taste to crabs caught around the Oki Islands and from seas to the north. Renowned as one of the finest varieties of snow crab, these crabs are prized for their rich sweetness and perfect firmness. Tsuiyama crabs have blue tags.

Sekogani (female snow crabs)

Connoisseurs often say that sekogani are the most delicious of all crabs. You can enjoy both uchiko (eggs inside the shell) and sotoko (eggs in the belly) , and the meat is delicate with a flavor next to none.

Squid

Freshness is a key factor for squid. Hotel Kinparo only uses the freshest squid, sourced directly from Tsuiyama Fishing Port! We hope you enjoy our sweet and succulent squid.

Japanese sea snails

Eaten raw, these sea snails have a crunchy texture with a distinctive fragrance and sweetness; when cooked, their tail end in particular possesses a rich flavor reminiscent of foie grois. Many connoisseurs have been captivated by the charms of Japanese sea snails, preferring them to the horned turban, another species of sea snail.

Japanese sandfish

A culinary delight belying its normal appearance. A tender texture with an oceanic bouquet which spreads with every bite. This fish is delicious however served, whether cooked, deep fried, simmered, or in a hotpot.

Sakura shrimps (white shrimps)

This variety of shrimp loses its freshness quickly compared to other kinds of shrimp. But thanks to our close proximity to the fishing town of Tsuiyama, we are able to provide them fresh. They are just as popular in this region as crab.

Flounder

A light fish with a mellow taste, delicious when grilled without seasoning and eaten with soy sauce. This fish also tastes great simmered, deep fried, grilled with salt, etc.

Firefly squid

Firefly squid fishing takes place every March and April in Tsuiyama Fishing Port. Fresh firefly squid is delicious beyond words. Please don't miss the opportunity to try this dish while here.
The dining area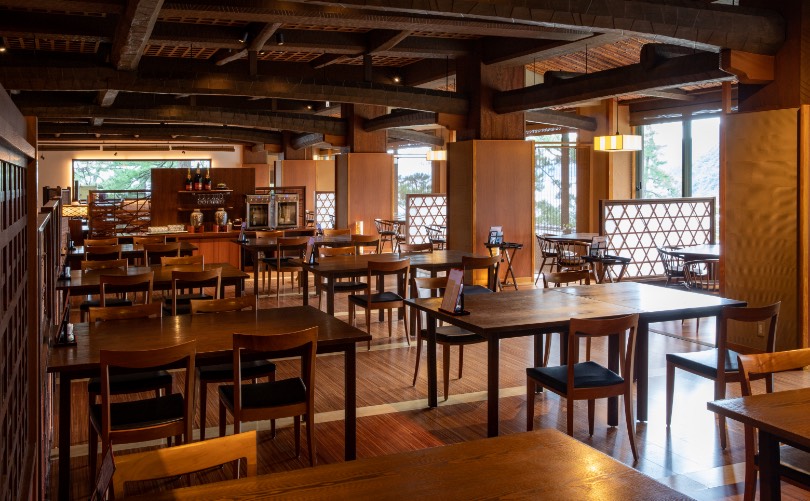 Modern dining in the style of an old Japanese house with a high-beamed ceiling, this restaurant's refined design complements the contrast between views of green pine trees and the Sea of Japan from its windows. Relax and enjoy the ultimate in luxury as you sip a cup of the finest Tajima sake and watch fresh ingredients from the San'in region being prepared in the restaurant's dynamic open kitchen.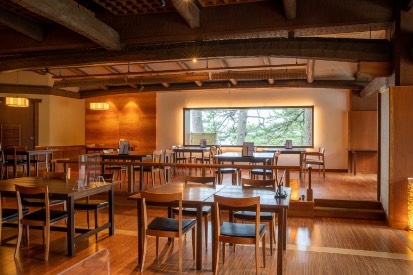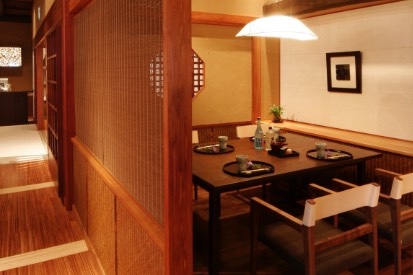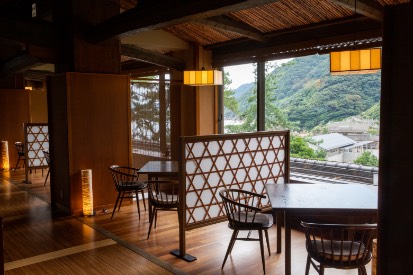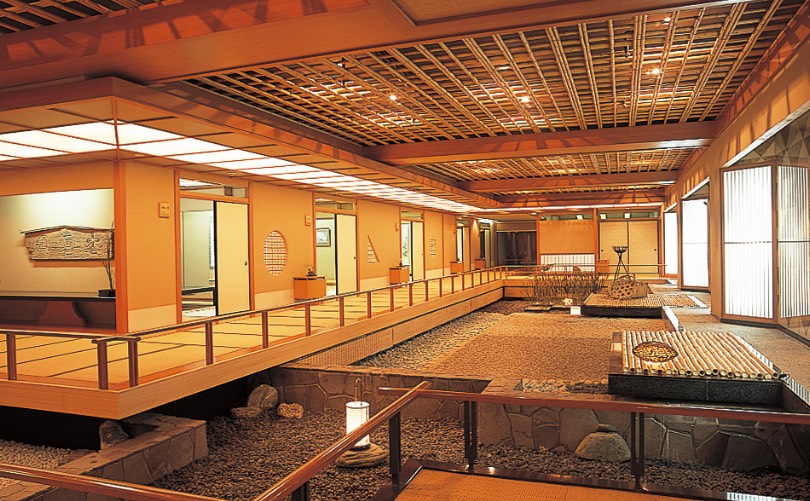 A restaurant with private rooms where you can dine in a relaxing atmosphere while gazing at the lights of fishing boats out at sea.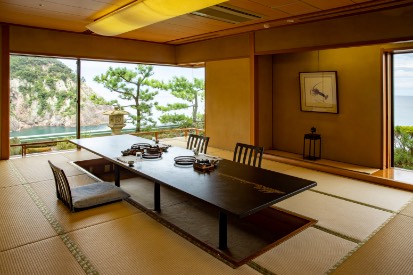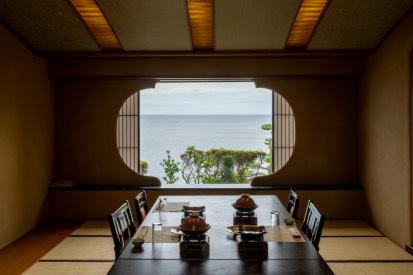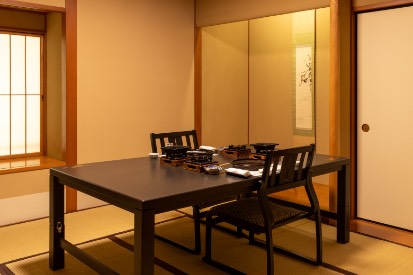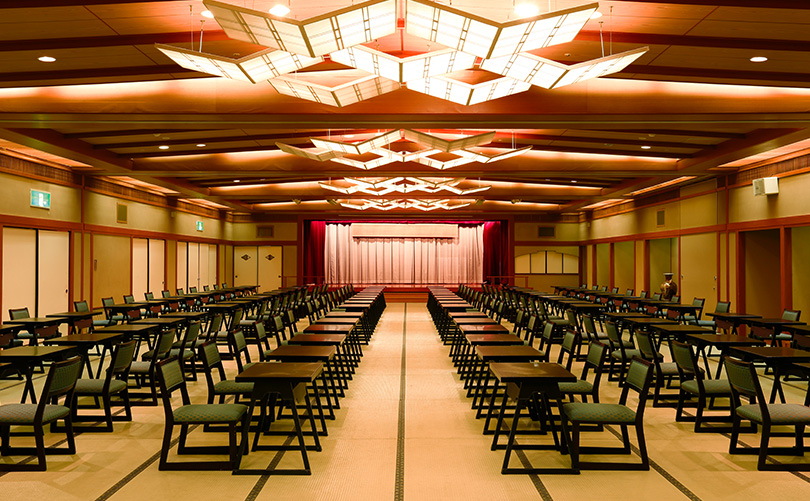 Banquet hall
There are six Japanese style banqueting halls and one Convention hall, both large and small, catering for diverse styles, both Japanese and Western.